Annual Report 2017
Our members are determined people with big dreams. They provide the vision and hard work; we open new opportunities.

In this report we highlight what we're doing together to achieve
Self-Help's mission of creating and protecting ownership and economic opportunity for all.

Thank you for supporting us in this important work.


2017 Impact

Financial Services
Through our network of credit unions, we provide fair and affordable financial products that help members build wealth, repair credit and achieve their financial goals.
New Family in Chicago:
Seaway Bank
On May 1, Chicago's Seaway Bank became part of Self-Help Federal Credit Union. Seaway started in 1965 when community leaders on Chicago's South Side created a financial institution focused on the needs of the local Black community. Seaway grew to become one of the nation's largest Black-owned banks until it was hit by the Great Recession. 
With the merger, Self-Help Federal CU welcomes over 12,000 Seaway new members, including customers served by a branch in Milwaukee, Wisconsin.
In this 2005 photo, Seaway Bank's commercial trust account managers convene at the 87th Street headquarters under the leadership of Corporate Trust Vice-President Lois Jenkins (center).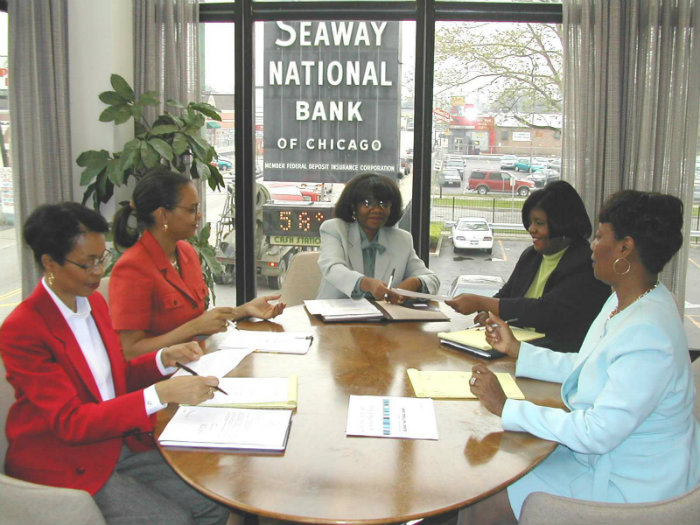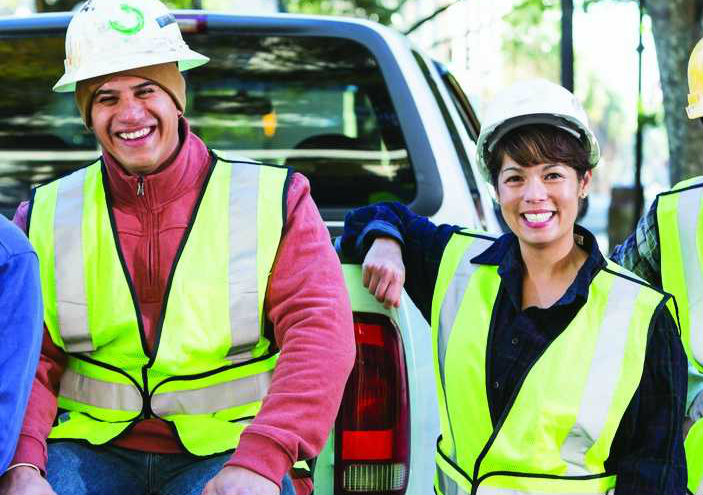 New Family in Jacksonville:
Jax Metro
On June 1, Jax Metro Credit Union joined
Self-Help Credit Union. Jax Metro was founded in 1935 to serve utility and port workers in the City of Jacksonville, Florida, and now also serves teachers and other city workers. 
With a commitment to offering its members expanded products and services, Jax Metro's leadership voted unanimously to merge with Self-Help CU.  With the merger, 4,300 new members  joined Self-Help CU.
Building Better Credit - and a Better Life
Salvador Terrones of San Diego is thriving as a college student and licensed Realtor, but he didn't reach this point easily. Raised in the foster care system, Salvador grew up in an impoverished community with few opportunities. He connected with a local nonprofit and a mentor who helped him build a better life—including building stronger credit with help from Self-Help Federal CU.

Meet Salvador and hear more of his story in the video above.

Centenarian Stays Loyal to Self-Help
Mrs. Josephine Pruitt of Newton, North Carolina says she has "enjoyed every minute" of being a member of Self-Help CU.  That's a lot of minutes, because she has been a member since 1981, when she and her late husband joined a predecessor credit union, Carolina Mills Employees Credit Union, that evolved into Self-Help CU today.

In 2017, Mrs. Pruitt celebrated her 100th birthday. We're in awe of her longevity and appreciate her loyalty.
Building Financial Capability
Self-Help CU branches in Asheville, NC have teamed up with OnTrack WNC Financial Education and Counseling to offer free financial coaching. This service gives members an opportunity to meet with a trained counselor and create a personal financial plan.  Self-Help Federal CU also connects members with financial coaches. Last year in California, they helped a member who was struggling with over $50,000 of student loan debt. By working with a coach, he was able to negotiate and reduce the debt to $8,000!

All Self-Help members have access to free financial resources online through our partnership with the national organization Balance.
Top photo: Self-Help Federal CU member Laura Alejo consults with financial advisor John Luna.
Bottom photo: Kathryn Beach (left), financial coach for OnTrack, with Self-Help CU member services representative Kenya Jackson in Asheville, NC.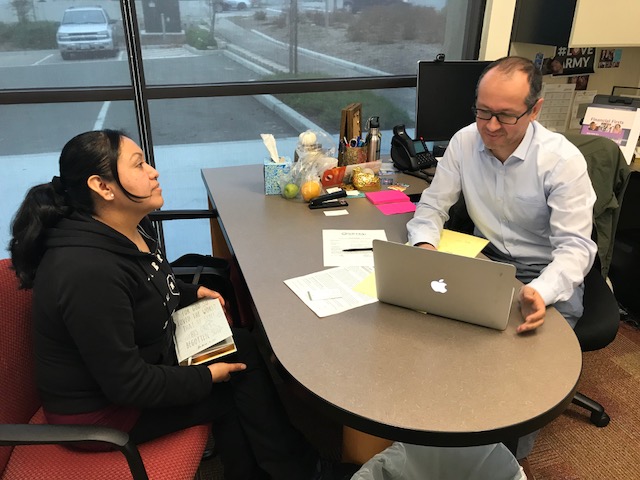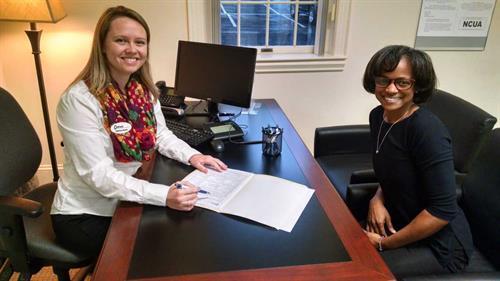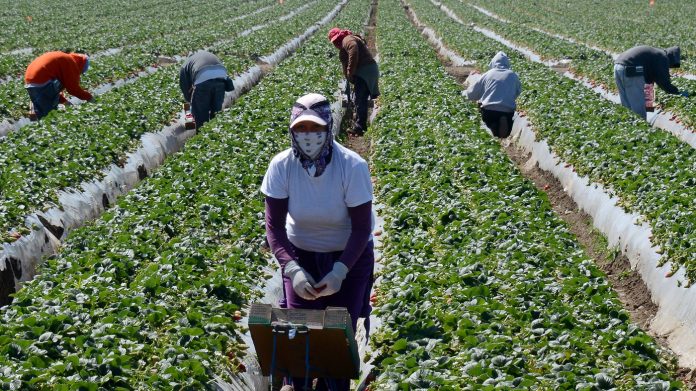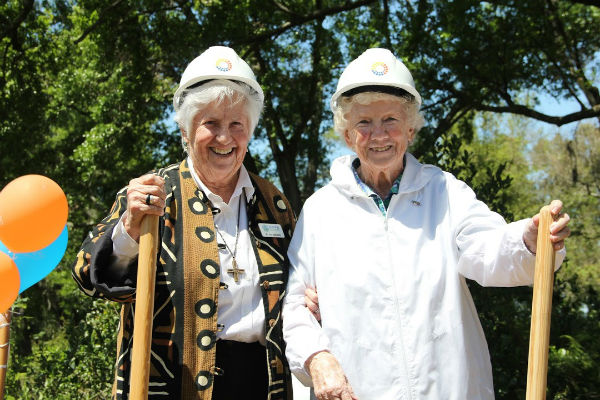 Making Loans


Fair and Affordable
Members come to us for a personal loan for all kinds of reasons—all too often because they have encountered a predatory lender. This happened to a credit union member in Apopka, Florida ("Nancy"), who took a $2,000 car title loan when she needed emergency funds for her family. When Nancy came to Self-Help Federal CU, she had paid $1,600 in fees for this debt-trap loan. We provided an affordable personal loan that allowed her to pay off the title loan and begin financial recovery.
Top photo: Self-Help's predecessor credit union in Apopka, Florida was founded in 1982 to serve local farmworkers. (Photo courtesy of The Apopka Voice.)
Bottom photo: Two of the original credit union's founders, Sisters Ann Kendrick (left) and Teresa McElwee, recently attended a groundbreaking ceremony for a new Apopka branch office under construction.
Honoring our Legacy Credit Unions
Self-Help CU and Self-Help Federal CU have merged with over 20 financial institutions; each one comes to us with a unique history. We are preserving their stories in short documentaries collected in Self-Help's Vault. These are stories of black farmers who couldn't get loans for equipment and fertilizer. Immigrants and black families on the south side of Chicago trying to build a better life. Textile and manufacturing workers joining together to make cooperative loans possible.

View the series trailer here, then watch all the videos at community.sh/SelfHelpsVault (and check back often, as there are more to come).

Advocacy and Service
We push for fair state, federal and local policies that promote stronger protections against predatory lending and offer more inclusive economic opportunities.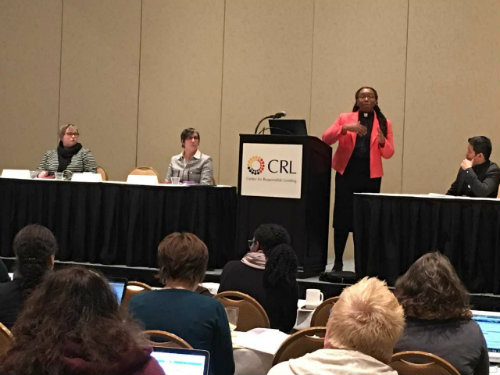 Putting the Brakes on Abusive Student Loans
Too many for-profit colleges and career education schools offer low-quality programs while saddling students with burdensome loans. In 2017, the Center for Responsible Lending (CRL) assisted a state coalition in Washington in passing the Student Education Loan Bill of Rights, establishing stronger safeguards against student loan abuses. We are advocating for similar policies in other states. CRL is also defending the federal Gainful Employment and Borrower Defense to Repayment Rules, which help identify and close down scam schools and reduce loan burdens on defrauded students.
Above: Sekinah Hamlin of the Center for Responsible Lending speaks at a student loan summit that CRL held in January.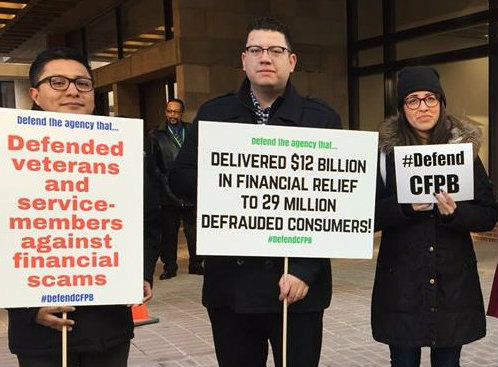 Standing Up for Fair Financial Practices
In 2017, CRL welcomed a new rule by the Consumer Financial Protection Bureau (CFPB) aimed at reining in debt-trap loans from payday and car-title lenders. CRL is now working with a large coalition of consumer and civil rights advocates to keep that rule in place. Last year CRL also fought to keep protections strong for prepaid debit cards, and to stop efforts in Congress to undermine the CFPB's ability carry out its mission of protecting consumers against unfair financial practices.
Above: CRL staffers in Washington, D.C. demonstrate for a strong, effective Consumer Financial Protection Bureau.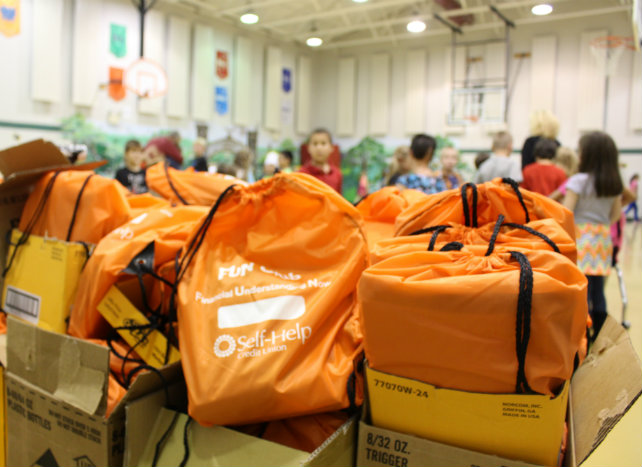 Learning and Volunteering:
Service in the Wider World
When it comes to advocacy and service, many Self-Help staff go beyond their job descriptions. In 2017, Durham staff hosted staff forums on race and criminal justice and racial equity. In NC's western branches, staff served the hungry in multiple ways, like providing free storage for food distributed to needy people throughout the county.

We also have a strong record of providing volunteer income tax assistance (VITA). In 2017,
Self-Help Federal branches in California assisted with over 1,200 tax returns, generating $1.4 million in refunds to mostly low-income families. 
Above: In August, Self-Help CU members donated funds to fill backpacks with school supplies, helping more than 1,400 children in need.

Expanding & Preserving Homeownership
We make homeownership a reality for low- and moderate-income families by offering fair and affordable home loans and developing affordable housing.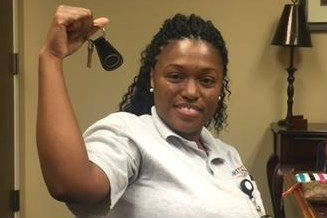 Making Homeownership Possible
For years, Charlene Watson wanted a house in a safe neighborhood where her teenaged son could thrive. To save money, she moved in with her mother and commuted to her meter-reader job in Raleigh.

Charlene's determination to own a home matched Self-Help's determination to help her qualify. Using grant funding, Self-Help was able to offer Charlene a low interest rate on her loan, and reduce her down payment and closing costs. Charlene closed on her house in June 2017, and is now a happy homeowner in Knightdale, NC.
Above: Charlene Watson at the closing of her new home in Raleigh.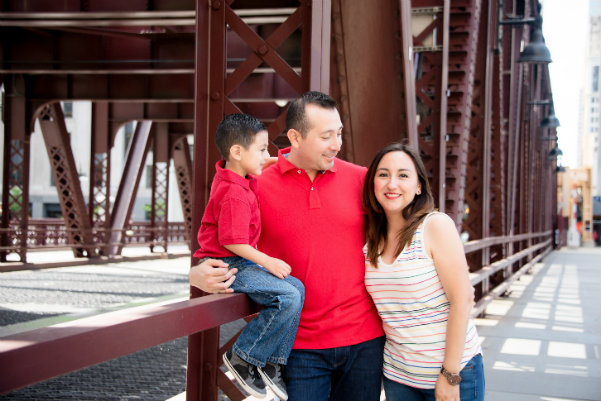 A Tragedy, then a Dream Realized
Buying a home can be a key part of a larger financial recovery. Ricky and Sheila, both first-generation immigrants, rented a home in Antioch, California with their sons. Their home caught fire in July 2016 and most of their possessions were destroyed. They were temporarily homeless but determined to recover and buy their own home.

Ricky and Sheila joined Self-Help Federal CU and worked closely with the loan officer to get pre-approved for a loan in Stockton, CA.  The family moved into their new home in time to enjoy the holidays and ring in 2017.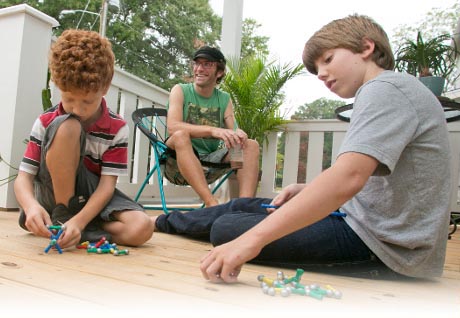 Buying Loans to Make a Difference
While doing direct home lending for members, Self-Help magnifies our impact by purchasing mortgages from other lenders.

We buy existing loan portfolios, new affordable loans made by lending partners, and we also purchase from community development financial institutions (CDFIs). These purchases boost our partners' ability to serve niche markets and help recycle more funds into the communities we and our partners serve.

In 2017, we worked with other lenders and CDFIs to offer $186 million in new mortgages aimed at families with lower incomes or credit scores.
Helping Families Stay in Homes

For 40 years, Roosevelt and Carolyn Green of Maywood, Chicago have lived in a house they love. Last year when a home equity loan became due in full, they needed an extension. Their bank refused to offer an affordable option and was prepared to foreclose, even though the Greens had a stellar payment record.

The Greens confided in their pastor, Bishop Dr. Claude Porter, who also leads a local non-profit serving low-income families. Bishop Porter came to Seaway Bank, now part of Self-Help Federal CU. After reviewing the Greens' situation, we were happy to offer an affordable refinance.

Business & Nonprofit Lending
We lend to businesses and nonprofits to create jobs, revitalize neighborhoods, support important community services and build community wealth.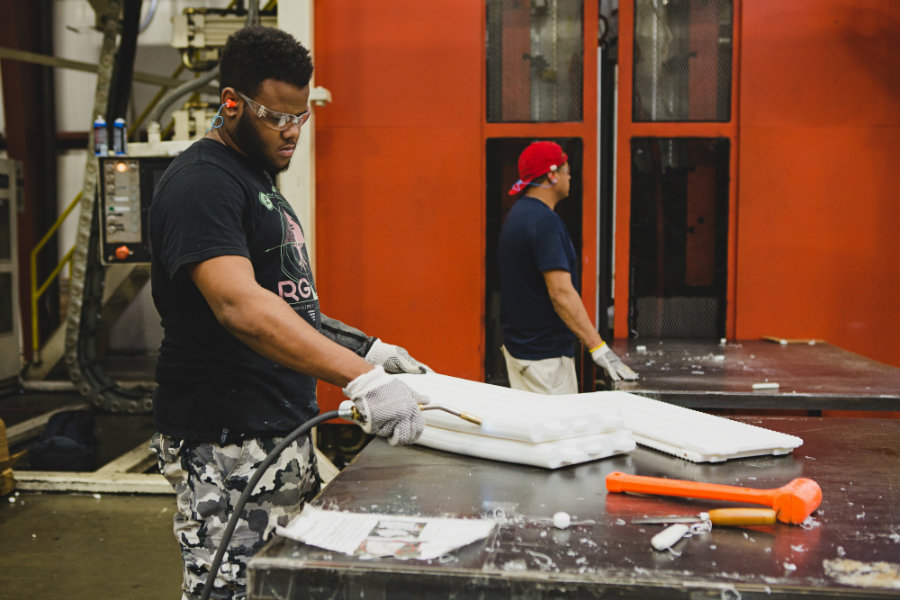 New Manufacturing Jobs in Rockingham County
Blow molding may not be a household topic, but households depend on blow-molded products, including molded dashboards, playground parts and plant containers. One growing manufacturer of these products is Blow-Molded Solutions (BMS) in Mayodan, NC, located in Rockingham County. Self-Help financed a warehouse for BMS in 2013, and in 2017 we financed an expansion of their plant, doubling their manufacturing space. Both loans were financed through our SBA 504 loan program, a U.S. Small Business Administration economic development program that offers low, long-term fixed interest rates.  
Above: BMS employee at work! BMS now employs 68 workers and expects to hire 18 more in the next few years.
Students Taking Charge of Healthy Meals
In 2014, Self-Help started a modest program at Henderson Collegiate Charter School in Henderson, NC to engage kids in healthy foods education. We called that program SPOON: Student Power Over Our Nutrition. With partners, we expanded SPOON with a pilot program in three Durham, NC public schools. The response has been enthusiastic as students visit a farm, taste new dishes and have a new voice in school meals.

Appreciation to the schools and also to Bank of America and Burt's Bees for SPOON support.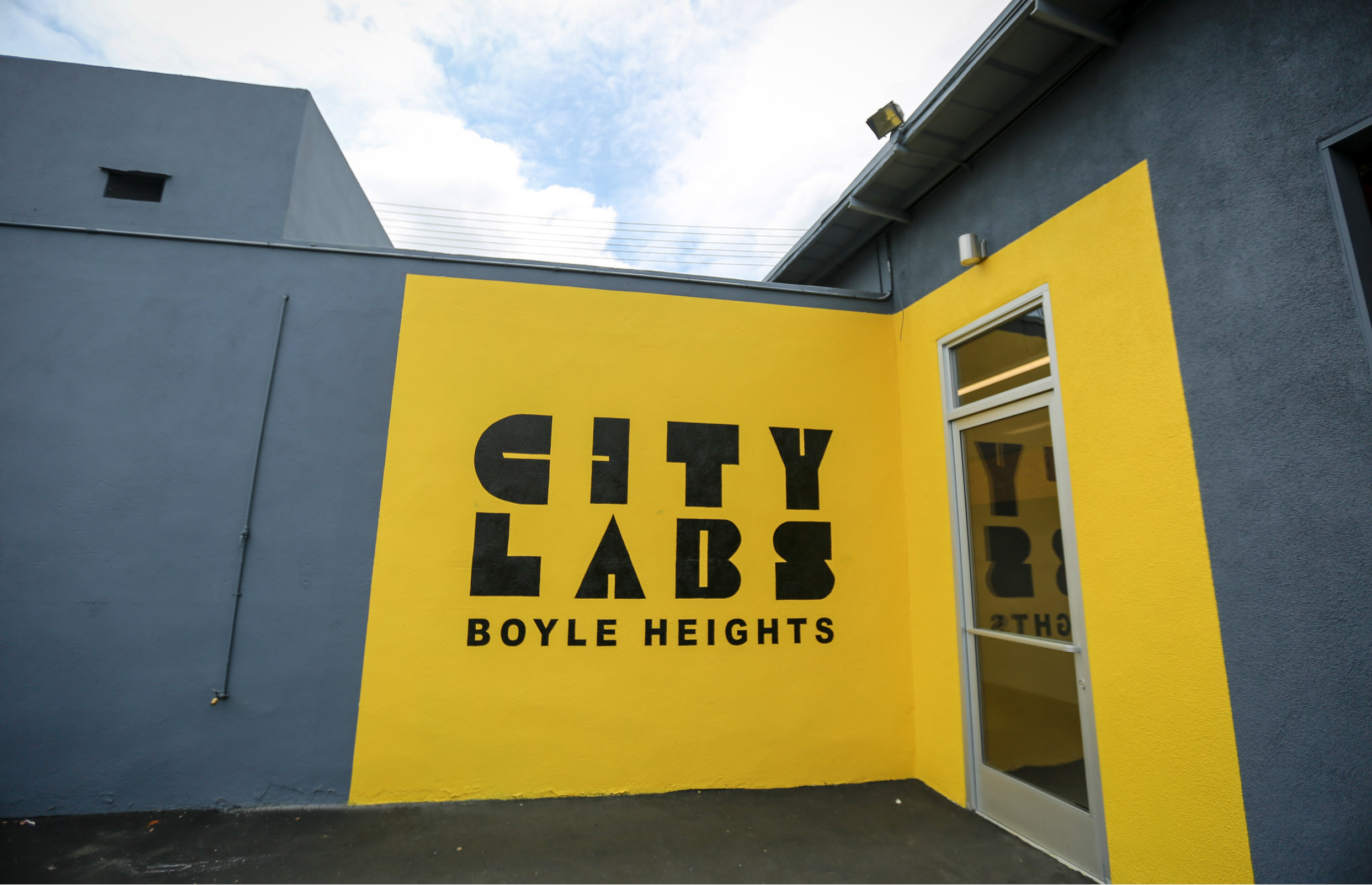 LA Developers with a Mission
Alfred Fraijo, Jr. and Art Becerra are Los Angeles real estate investors with a mission. With Self-Help financing, they purchased a mixed-use building on Cesar Chavez Avenue in Boyle Heights, a predominantly Mexican-American neighborhood where Alfred grew up. Their goal is to provide affordable space to residents, businesses and nonprofits serving the vibrant East LA and Northeast LA communities. They also will preserve affordability for existing tenants, a senior resident and two small businesses. The  loan for "City Labs 2" closed in January.

Above: Previous City Labs project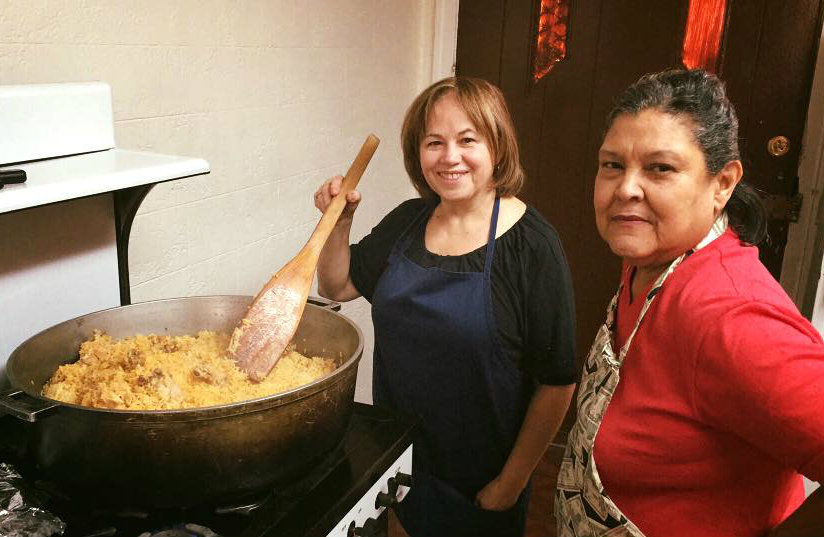 ... and a Mission-Focused Church in Chicago
Last year, our Seaway division was honored to begin a partnership with Iglesia Mision Del Valle, a Latino church on the West Side of Chicago.  With a Seaway loan, the 25-year-old church will expand its congregation and its mission activities, including service to the hungry, the homeless, victims of domestic violence and people who suffer with HIV or addictions.
Above: Volunteers are busy in the Iglesia Mision Del Valle kitchen preparing food for the church's food pantry ministry.
Lending a Hand in Multiple Ways
In Kinston, NC, a local minister has started a remarkable nonprofit, Hope Restorations (HR), dedicated to helping adults recovering from addictions or incarceration. Reverend Chris Jenkins buys modest houses in bad condition, hires HR clients to work on the renovations and then rents the homes at affordable rates to low-income families. At the end of 2017, HR owned 24 properties and employed 15 men.
Last year Self-Help financed the renovation of an HR home damaged by Hurricane Matthew. In the future, we plan to support HR by providing literacy training and mortgages for first-time homeowners who can buy the renovated houses.
Top photo: Two Hope Restorations clients share a laugh as they work on a house. Photo by Janet S. Carter of the Kinston Free Press, Kinston.com.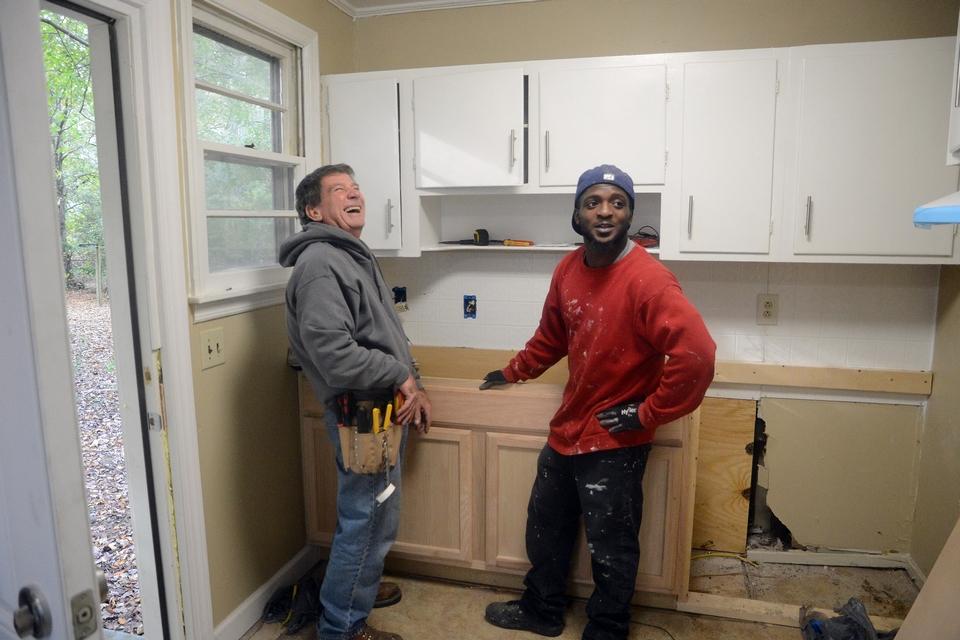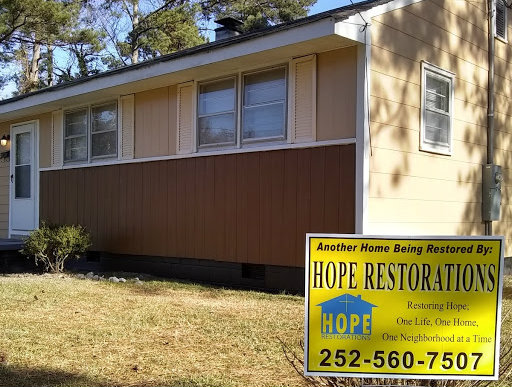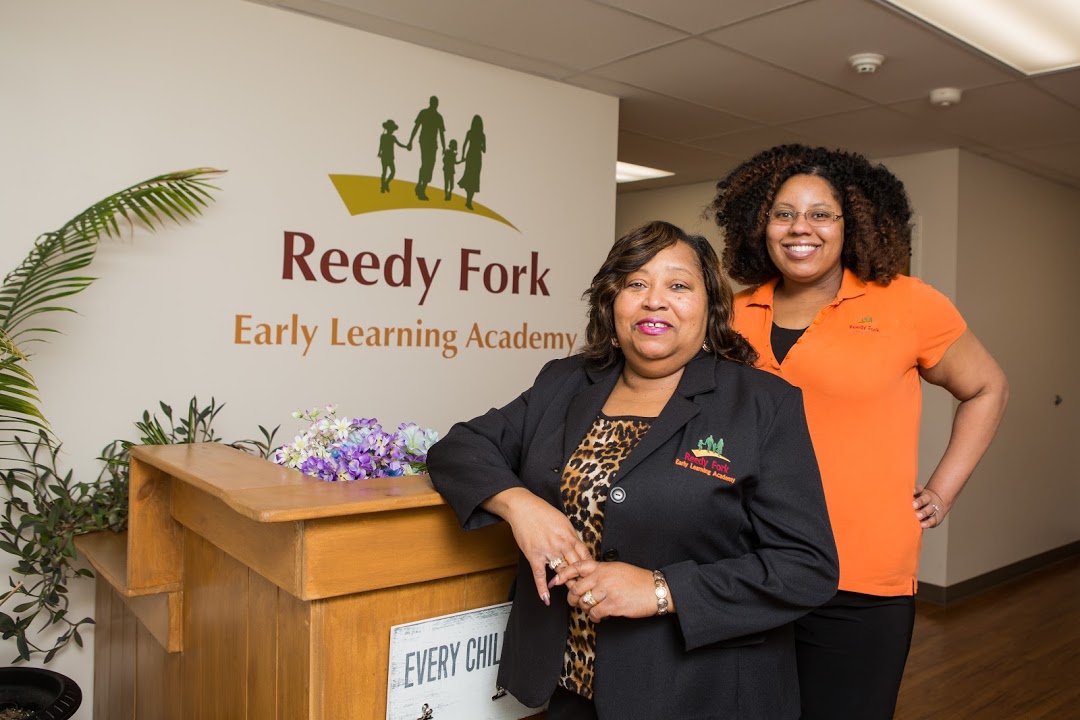 Five Stars for Reedy Fork Child Care
The first thing to know about Tammy Davis, a licensed day care director, is that she loves "her" children—and the children and their parents love Tammy. For more than 25 years, Tammy has owned and directed a five-star child care center in downtown High Point, NC that serves low-income children. When Tammy decided to expand in Greensboro, she received an SBA 504 business loan from Self-Help. The new child care center, Reedy Fork Early Learning Academy, also has earned a five-star rating.
Photo: Tammy Davis with one of three daughters who help her run her child care centers.
"Bringing it Home"
in Asheville
In October, Self-Help CU and partners held their third "Bringing it Home" conference in Asheville, NC. The event brings together a diverse set of community advocates and entrepreneurs who care about building a local economy that works for everyone. This year's conference attracted 160 attendees, ranging from Asheville's mayor to teenagers aspiring to become successful entrepreneurs.

Real Estate Development
We develop and operate real estate projects that help communities thrive — from catalytic downtown and neighborhood investments to schools, services and affordable housing. We prioritize green, socially responsive projects and work hand-in-hand with community partners to guide our vision.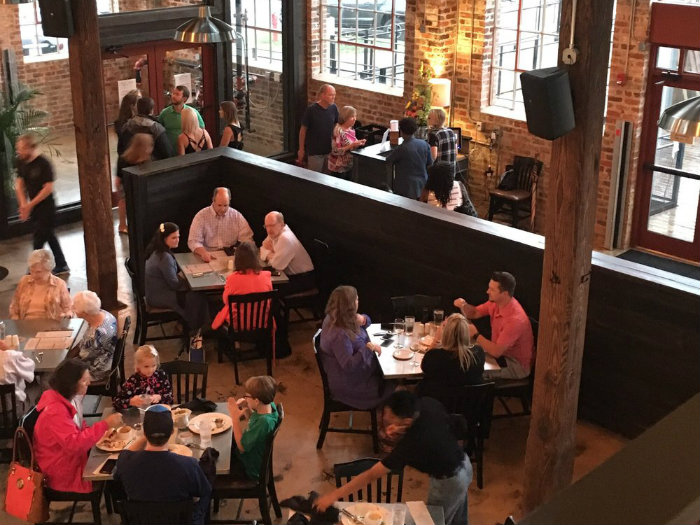 Bringing New Life to an Historic Site

After five years of planning and construction by Self-Help, historic Revolution Mill in Greensboro, NC has blossomed into an asset for the local community. In 2017, two restaurants and a cafe opened, expanding dining options in the area and also adding two minority-owned businesses. 

The campus also includes two art galleries, a history museum, and office space for more than 95 businesses, creative firms and entrepreneurs. Today over 200
people call Revolution Mill home, residing in 31 income-restricted workforce housing units and 111 market-rate apartments.
Above: Natty Greene's Kitchen and Market is one of the Revolution Mill businesses that opened in 2017. Photo by Barbara T. Nelles.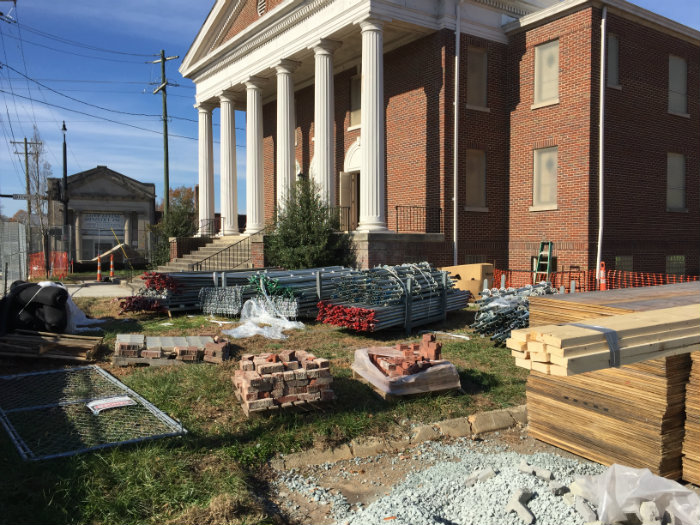 ABC Center: Revitalizing East Durham
Self-Help is redeveloping and repurposing spaces for businesses and nonprofits in the heart of an East Durham, NC historic business district with the Angier Business & Children's Center ("ABC Center"). In 2017, we began renovating four buildings totaling 45,000 square feet.

When the project is completed this fall, we expect to welcome a child care center; the new home of the East Durham Children's Initiative; a church; an independent pharmacy; an innovative restaurant/market and other small business and nonprofit tenants. We look forward to bringing more goods and services to the neighborhood and new jobs.
Above: The ABC Center includes an historic church sanctuary and education building that is expected to house a growing neighborhood-based church  and also provide space for other community uses.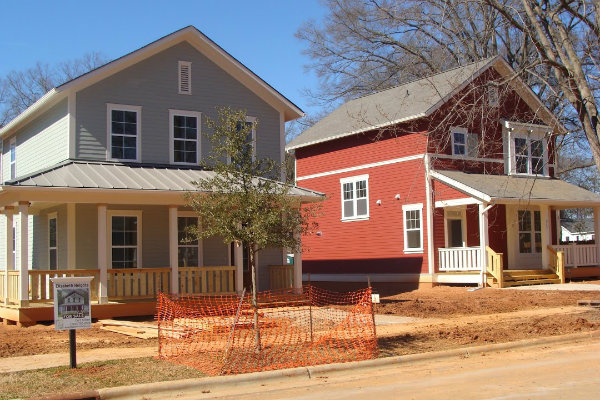 Investment Continues
in Elizabeth Heights 
Ten years ago, Elizabeth Heights in Charlotte, NC—part of the longstanding Grier Heights neighborhood—was severely impacted by poverty, crime and disinvestment. Today that neighborhood's transformation continues, as Self-Help and partners CrossRoads Corporation and JCB Urban have built 32 new homes in Grier Heights, including 28 in the Elizabeth Heights development. In the fall of 2016, the NC Housing Finance Agency honored this venture with its 2016 Housing North Carolina Award for Home Ownership Development. Watch their beautiful award video here.

Financials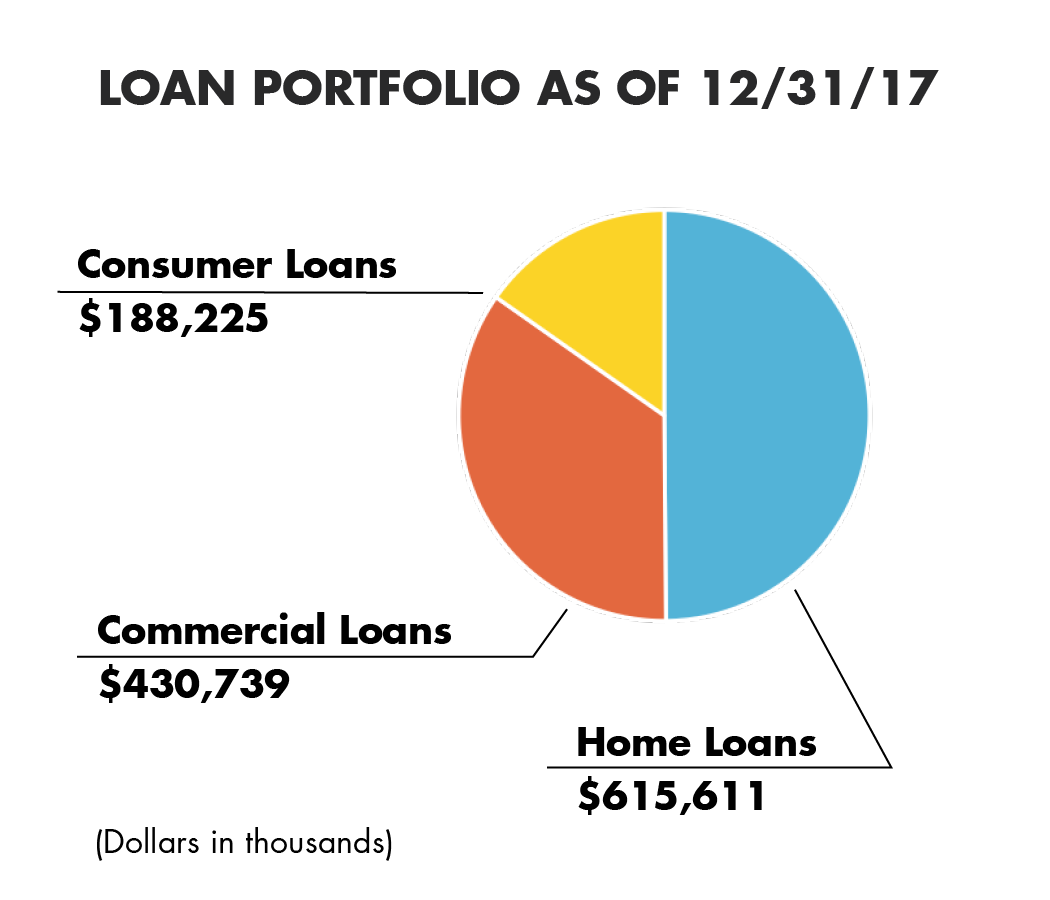 Balance Sheet as of 12/31/17
(Dollars in thousands - unaudited)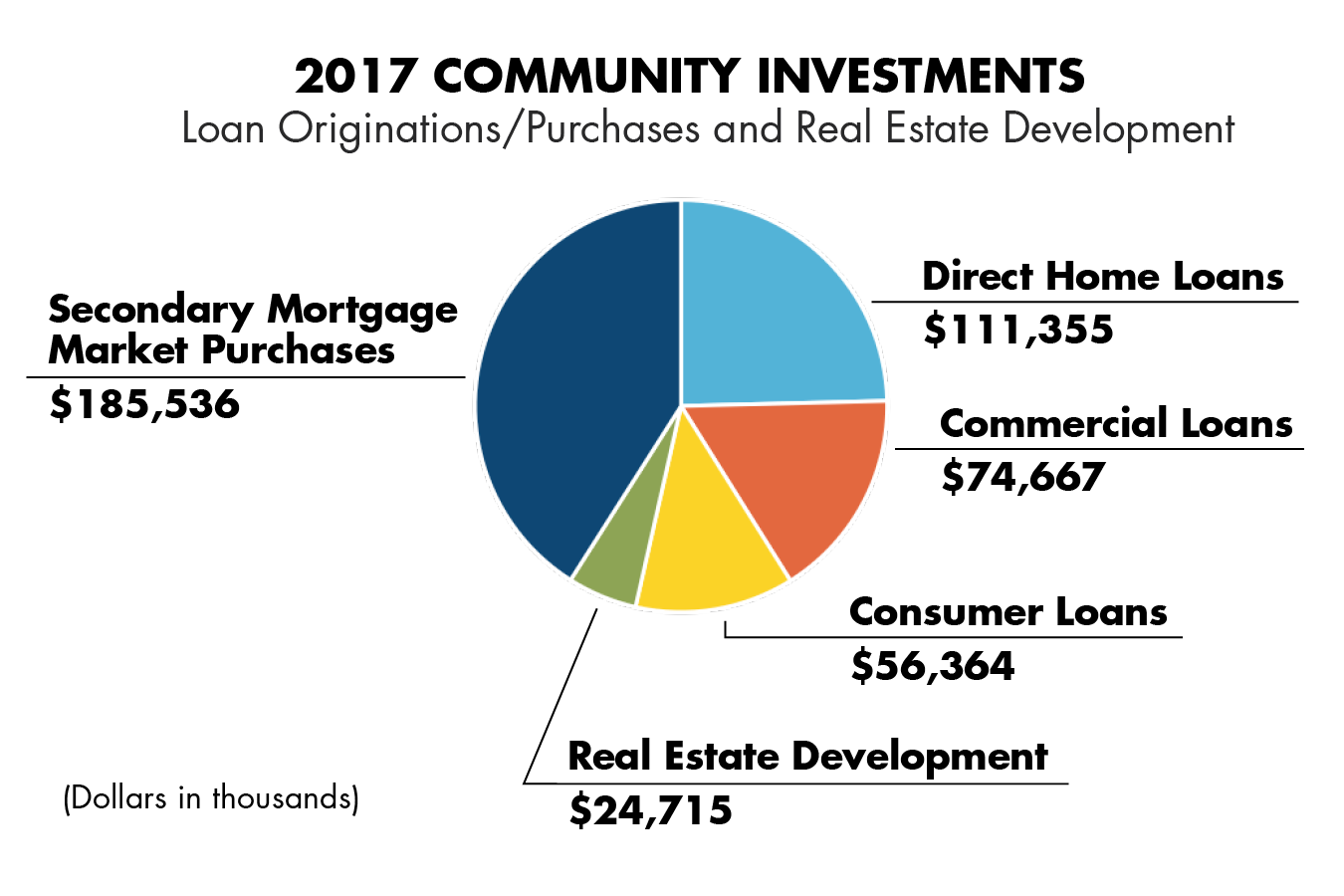 2017 Income Statement
(Dollars in thousands - unaudited)

Join us
We're building on the successes of 2017, but we can't do it alone. Please join us in our work. Become a credit union member and give your deposits a mission. Every member of Self-Help gains access to great financial services while becoming an investor in building stronger communities.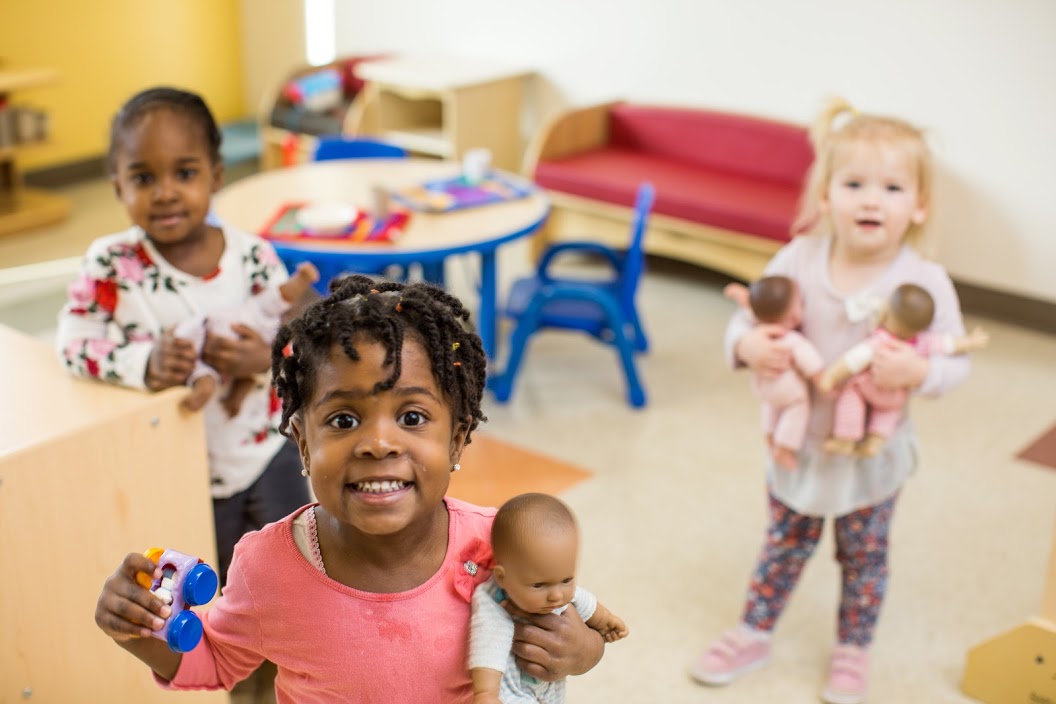 Some names have been changed to protect privacy.


Self-Help Credit Union & Self-Help Federal Credit Union
Federally insured by NCUA, Equal Housing Lender
Self-Help Ventures Fund is Aeris rated.
Copyright © 2018 - All rights reserved